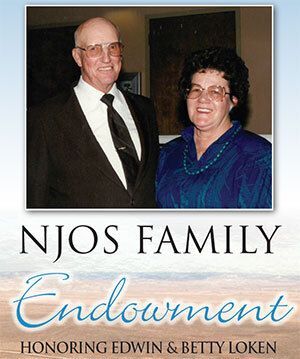 Njos Family Endowment
Edwina (Loken) Njos spent her married life in southwestern North Dakota, near Rhame. It thrills her to go back and see what her brother-in-law, John Lee Njos, and his family have done with the property. New varieties of grasses are growing and it's flourishing, even in years of extreme drought because they have managed the land holistically. Edwina says regenerative farming makes a big difference in product quality and the health of the land. Edwina and her siblings chose to sell their parents' ranch. In honor of her parents, Edwin and Betty Loken, she made a generous contribution to NDGLC.
In 2021, the North Dakota Grazing Lands Coalition (NDGLC) established the Njos Family Endowment within the North Dakota Community Foundation in honor of Edwin and Betty Loken (parents of Edwina G. Njos) for their pioneering spirit, faith and love of the land.
Income from the Njos Family Endowment will support NDGLC's mission to promote the health and regeneration of North Dakota's grasslands and will be used to support NDGLC priority needs including general operating expenses and educational events and opportunities. 
To make an online donation, click the button below, or make a contribution via check and mail to: 

NDGLC Njos Family Endowment Fund
PO Box 1091
Bismarck, ND 58502
To make an online donation, click the button below, or make a contribution via check and mail to: